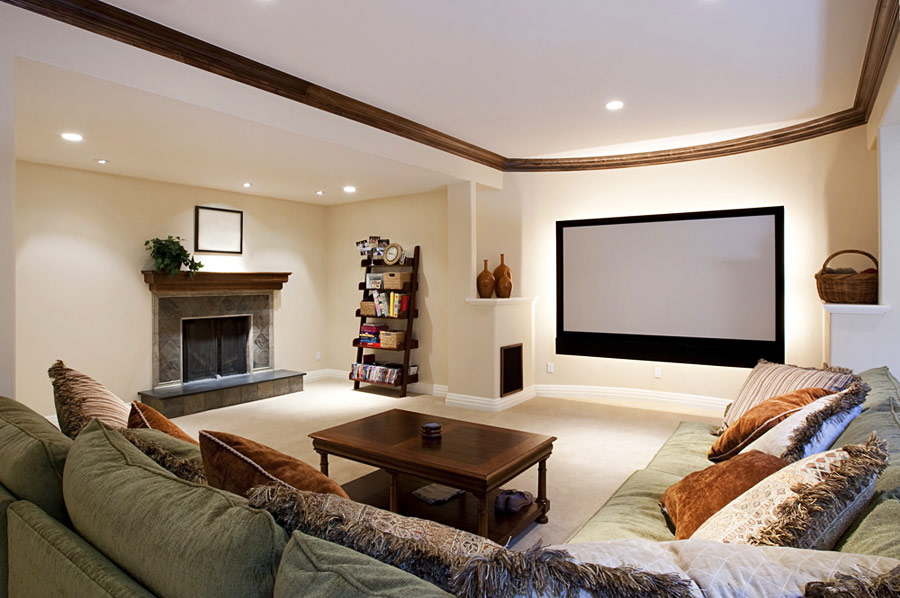 Transform your basement
Homeowners realize that a basement remodel can drastically improve quality of life in a home, add value, and expand livable space! Luxury basement remodels are becoming more and more popular in the area because of their diversity and value. Using space already present in your floor plan is an efficient way to upgrade your home! Below, you will find a number of elements to consider for your Northern Virginia luxury basement remodel.
BASEMENT REMODELS
The walls make a big difference. Unfinished or stale walls can really bring a room down. adding some color and texture not only gives a space its own unique feel, but can amplify what space you have by making it seem bigger! When you consider your basement remodel, start with these elements: the walls, the ceilings, and the floors.
Unfinished ceilings featuring exposed pipes, joists, duct work, insulation, and drywall are very unflattering. Stale ceilings with peeling paint or old fixtures are also important to consider. Remember: ceilings, walls, and floors account for most of what we see!
Flooring can be tricky in a basement, but if you have unfinished, exposed, concrete or scuffed old hardwood, it's time to make a change. Comfy carpeting or lustrous, rustic, wood can really add personality to your basement.
Media Centers are popular additions, who wouldn't want a movie theater in their basement? A gorgeous setup for your big screen TV and all the right furniture can transform your basement into a cinematic refuge.
Home Gyms are a great investment. Not only can homeowners create a healthful, creative, and energizing space in their own house, but they can save on annual gym memberships. Home gyms are popular for a reason: they're convenient, effective, and cost effective!
Game Rooms bring families together and make entertaining a breeze. Pool, ping-pong, darts, home bars, and more will help you get the most out of your space. It's important to design the room as something special too! The games themselves are great, but without the right ambiance, lighting, flooring, fixtures, and more, your game room isn't meeting it's potential!
If you're ready to get started on your Northern Virginia luxury basement remodel, contact us today. We live by the ethos "luxury made affordable" because that's our mission: making your design dreams come true on time, within budget, and at the hands of exceptionally talented craftsmen. We're Northern Virginia-based basement remodeling specialists, and we're her to serve you!
A finished basement will increase both the square footage and value to your home. Adding a guest bedroom and bathroom are excellent features to incorporate into your plan. Our design team will work with you to transform your unused basement into an integral part of your home.
Our Basement & Interior Services Include But Aren't Limited To:
Basement Bathrooms
Guest Bedrooms
Custom & Semi-Custom Bars
Wet Bars
Theaters & Media Rooms
Game Rooms
Exercise Rooms
Wine Cellars
Basement Area Ways & Walk-Outs
Egress Windows
Our mission has always been to help our clients realize their home remodeling visions and build their dreams. BTL Homes can handle any remodeling and home building requirement, from smaller renovation jobs to large design/build projects. Our team of design and construction professionals has more than 30 years of combined industry experience and brings it to you.