You want a deck or patio that looks modern but classic, timeless but fresh and new. You're working on making your house into the perfect dream home, and that includes the outside too. Throughout Maryland, DC, and Virginia, homeowners are transitioning from the less durable wood to stones and bricks, and when you make your choice, it will likely boil down to two options: flagstone or travertine?
BTL Homes works with both flagstone and travertine pavers when putting in sidewalks, patios, decks, grilling areas, and more. There are benefits, both practical and aesthetic, to both, and we can help you choose what might work best for your home.
Flagstone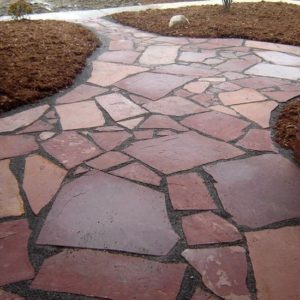 Flagstone is a universal term for any sedimentary rock formed from layers of sand, clay and minerals. This results in a diverse array of colors and characteristics that make them very appealing and allow you to perfectly complement any existing styles or designs very easily. Both durable and versatile, flagstone has narrow joints that eliminate water runoff, is naturally slip resistant, and generally easy to care for. With rich colors, a permeable surface, and space for grass and moss to grow in-between, flagstones can be flexible as the ground shifts with heat and cold.
Due to the unique characteristics of flagstone, a homeowner can choose to have a repeating pattern for a more formal style or applied in a random fashion for a more dynamic look. Another benefit is that it's much easier to replace a single stone if needed, instead of having to rebuild with wood or re-brick with brick.
If you're looking for something that has character and will be a topic of conversation, BTL Homes would recommend flagstone. But if you want something a little more muted in tone and diversity, travertine could be the best way to go for your patio needs.
Travertine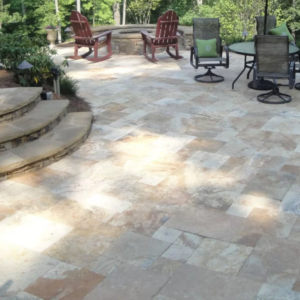 Travertine is a softer stone that has been mined everywhere from Italy and Peru to Yellowstone National Park. It has a unique look due to its complex forging processes and is cut from pure stone. While not as colorful as flagstone, travertine comes in a range of earthy colors, as well as providing many different shape and size options. Because it's made from natural stone, it is easy to maintain and naturally stain-resistant.
Travertine can provide you with a durable, slip resistant patio, walkway, or other outdoor area that will remain cool to the touch year-round. The temperature-resistant material makes it ideal for hot barefoot summers as well.
BTL Homes has been a leading provider of construction services throughout the DC Metro area since its founding in 2005. During your free consultation, our design professionals will work closely with you to identify your needs, clarify your vision, and make your dream home a reality. Contact us today to schedule a consultation!
General Contractor, Remodeling, Renovation, Additions, New construction, Brick & Stone, Flagstone, Travertine, Pavers, Bricks, Patio, Driveways, Foundation, Foundation repair, New foundation, Addition foundation, Helical piers, Concrete foundation, Block foundation, CMU foundation, Cinder block foundation, Footings, Excavation, Demolition, Poured foundation, Backfilling, Grading, Land clearing, Waterproofing, Water remediation, Basement flooding, Basement repair, French drain, Drainage pipes, Drain tile, Roofing, Asphalt shingles, New roof, Roof replacement, Roof repair, Siding, Gutters, Retaining wall, Concrete retaining wall, Block retaining wall, Poured retaining wall, Wooden retaining wall, Concrete, Concrete steps, Concrete walkway, Concrete pathway, Concrete stoop, Concrete driveway